OH-MY-GOD!
Hard to believe
these steam-punk deco
items —hand crafted by
Rafa Maya
-- are actually constructed with cardboard, plastic, recycled parts and a nifty paint job.
I am in so much AWE.
Gaze in wide-eyed wonder at one of several functioning clocks from
Diarment Creations
: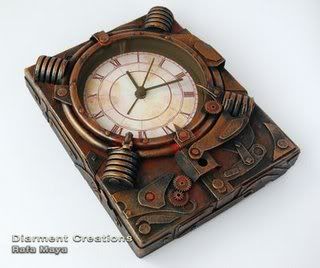 Ogle at more of his mind boggling handiwork in
Rafa's gallery.