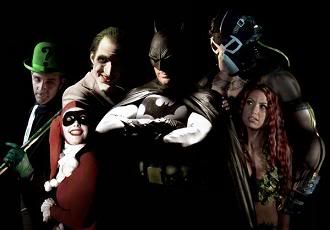 *image credit- BITS*
Bat In The Sun Productions
is an independent self-contained film and music production company… founded by Aaron and Sean Schoenke. Creators of some of the finest, most impressive Batman short films ever made. EH-VAR!
I'm a huge Batman fan, and I demand authenticity and believability in my stories.
These Batman fan films have it aplenty-- masterfully produced, captivating stories featuring character depictions and visual & narrative tone gratifyingly true to their comic book source material. Much more so than
Batman Begins
and
Dark Knight
— both of which are excellent Bat films I love.
The
Bat In The Sun
guys demonstrate that amateur or indie doesn't automatically equate to poor production values. And that "comic book" is not synonymous with "cheesy" or "for kids".
If you like your Batman as I do, you'll definitely wanna see this.
Watch
Batman Legends
and
Patient J
online at www.batinthesun.com