From writer/director Angelo Licata (with Lords of Illusion studio),
Dark Resurrection
is an experimental Non-Profit movie inspired by Star Wars.There are many Star Wars fan films out there (most of which I've seen), but this is one of the most incredible and adeptly implemented I've ever had the joy & privilege to experience. Definitely in the top 3 best.
Volume 1 is available for free in streaming video directly from the home page of the website in different resolutions. Volume 2 is currently in production (and accepting donations).
Much like the in-development
Artemis Eternal
project,
Dark Resurrection
is created/crewed by "amateurs" & volunteers at a professional quality level.

A few centuries after Episode VI:
An ancient prophecy leads the powerful Jedi Master Sorran to start an obsessive quest for Eron, a legendary place able to give infinite knowledge to the one who will open its seal. Because of his obsession, many apprentices die and Sorran is repudiated and apparently killed by the leaders of his own council. After many years, he reappears as if he had learned a secret to deceive death, and he manage to find out Eron's location with the help of a young apprentice and of the reinvigorated Imperial Forces.
Master Zui Mar and the young Hope, upon which a terrible secret waft, are dispatched on Eron to stop Sorran. The Council, however, decides to not reveal them the terrible destiny they are running into.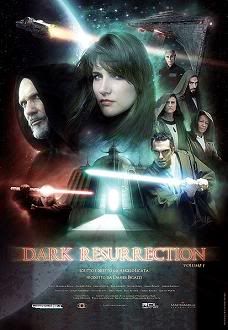 poster image credit-LOI