Milla Jovovich
is widely known as an actress and model.
But she also has a beautiful singing voice... imbued with a divine effervescence, a fabulously eclectic folk-rock
musical style
… and writes wonderfully poetic songs. Milla isn't too bad with a guitar, either. She exudes a delightfully charming child-like playfulness and exuberance.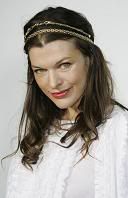 *image credit- www.millaj.com*
In 1993, she released an excellent album titled
The Divine Comedy
which admirably demonstrates her considerable singing ability.
And it still holds up quite well over 10 years later.
So does her voice.
Check out her awesome 2003 Fashion Rocks London performance: