And She Stares Longingly At All She Has Lost
; directed by Philip Van with Method Studios, launched by Little Minx
Literally breath taking. And heart breaking. Image and sound exquisitely combine to form an art piece that is emotionally and symbolically luscious, vibrant, poignant… ethereal, haunting. What was & will be?
More than merely a short story, this melancholy parable fantasy is a powerful visual narrative illustrating-- through a silent film— the regrettable process of losing our childhood innocence & potential to disillusionment of compromise we find in adulthood. Also, how we tend to fantasize our realities & expectation.
Full of multi-level metaphor and open to interpretation, I'll let you make your own conclusions as to what is says.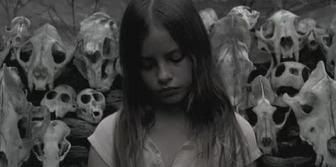 *image credit- littleminx.tv*