While exploring the dealer's room at the
Star Trek
convention in Las Vegas, I had the pleasure of discovering the unusual and exquisite art of
Alex Wer
, aka-
The Pumpkin Geek
. So named because he is a geek who has made pumpkin carving into an art form-- often choosing sci-fi/ fantasy images.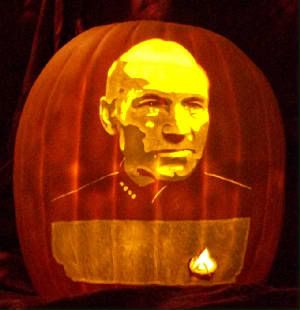 *image credit- Alex Wer*
With great surgical skill, Alex does custom carvings of character portraits on Everlasting Pumpkins (which are hollow orange foam rubber material in the shape of pumpkins turned faux jack'o'lanterns).
Having seen them up close, the resemblance to actual persons living, dead or fictional is damn near perfect. He also carves business logos & symbols.
Even without illumination, these Everlasting Pumkins will amaze & impress beyond just Halloween time. Lit from inside, these creations become astounding displays and decor.