I've long believed that the comic book fan films of the prolific & ambitious
Blinky Productions
approached greatness, but have always fallen short of what they tried to achieve.
But their Batman fan film
Call Me Mr. J
is a wonderful exception. Although not without flaws, the writing, acting and directing make the story believable & authentic, and the best comic fan film work I've seen from Blinky.
Call Me Mr. J
gives a different interpretation of the therapy session scenario depicted in another awesome Joker fan film from
Bat In The Sun
titled
Patient J
, while paying homage to Chris Nolan's Batman films.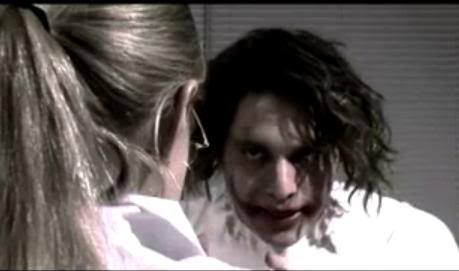 *image credit-Blinky Productions*
Producer Chris Notarile does an impressive Heath Ledger "inspired" performance as The Joker (which excuses any inadequacies in his "impersonation").
After the events of
The Dark Knight
movie, Joker is in Arkham Asylum being counseled by criminal psychiatrist Harleen Quinzel, excellently played by Johanna Telander. Brilliant and very satisfying enactment of the gradual progression of how Dr. Quinzel is slowly smitten with Joker in a kind of Stockholm syndrome, as Joker uses his charm to transform her into Harley Quinn.
Co-written & produced by
Chris Notarile
Directed & co-written by
Kim Santiago
Blinky also has a few great original stories:
Bitter Sweet
Methodic