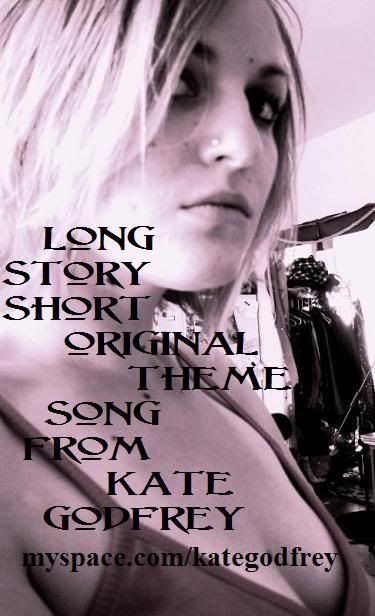 Stop whatever you are doing, now.
Download and listen
to the stunning theme song for
Long Story Short
---FREE.
Words in the song are a traditional Irish phrase:
"Amran O' Mo Kroi", which means "Song From My Heart".
"We are sooo pleased with it, and thank you greatly for the inspiration to pursue such a project.
I am thrilled with the way that it turned out!"
--Kate
(Me too)
"This is one of my favorite projects I have ever worked on thus far. I can't wait to read your book!"
--Kate
excerpt from the book acknowledgements:
When the idea occurred to me to enhance this book with cross media storytelling through an original, specially made theme song, my first and only choice for the composer was Kate Godfrey.
It was Kate, or no one. Her unique, innovative musical style immediately and indelibly impressed me… and is perfect for this project.
I was grateful and thrilled that she enthusiastically accepted the challenge of my request, designing an excellent song named after and complementing my book.
Read my interview with the remarkable Kate Godfrey
Now, suitably impressed,
go listen to her other spectacular music
(ask her about buying her album).
LSS
companion song produced with assistance from David Durrant at: http://www.myspace.com/durrantula