One of the attractions of sci-fi/ comic book conventions is the Cosplay.
I love seeing people go all-out on a costume, and are serious about the craftsmanship and authenticity.
When a costume is well designed & constructed, and suits the wearer... it is a wonderful site to behold.
Fictional characters made manifest in flesh, as a living—possibly interactive-- work of art (especially if they are in character).
A talented and aesthetically pleasing woman calling herself
Riddle
is such an artisan.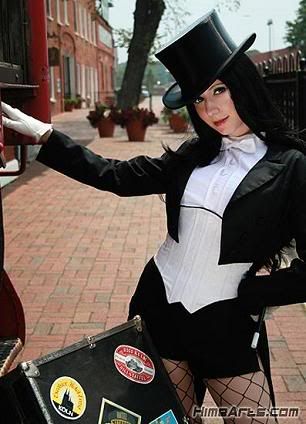 *image credit- Riddle/ Hime Arts*
Though I've never had the good fortune to see
Riddle
or her marvelous clothing artistry in person, her portfolio of costumes derived from comics and anime is substantial and spectacular.
And most impressively-- as a fashion designer and seamstress, Madame
Riddle
makes all her costumes herself!
"Aka-
Riddle
" clearly has both the talent and body for the types of costumes she creates.
Treat your eyes to samples of her tremendous skill as costumer, cosplayer and model on her myspace or her in-development
personal site